Three times named one the "Most Influential People in Real Estate Staging", Bobbie McGrath is a national award-winning home stager, international trainer, speaker, and co-author of Amazon's best-selling book, "Home Staging: The Power That Sells Real Estate". Bobbie was voted by her international peers as one of the Top Ten Occupied Home Stagers in America for several years, most recently in 2020. She currently serves as the Secretary of the RESA National Board of Directors. Since 2004, Bobbie has honed her craft while staging and/or consulting over 8,000 homes bringing her expertise to the Raleigh/Durham/Chapel Hill area. 
Known as the "Occupied Consultation Specialist™", Bobbie has created an outstanding training program "Talking Your Way to a Six-Figure Income" as part of her Occupied Consultation Specialist™ (OCS)educational series. Her course was named the "2019 Most Innovative Product or Service of the Year" while she was honored to be named RESA's "2020 Instructor of the Year." Through her OCS program, stagers from around the world embrace her no-nonsense approach to providing positive and empowering consultations sure change their local real estate market!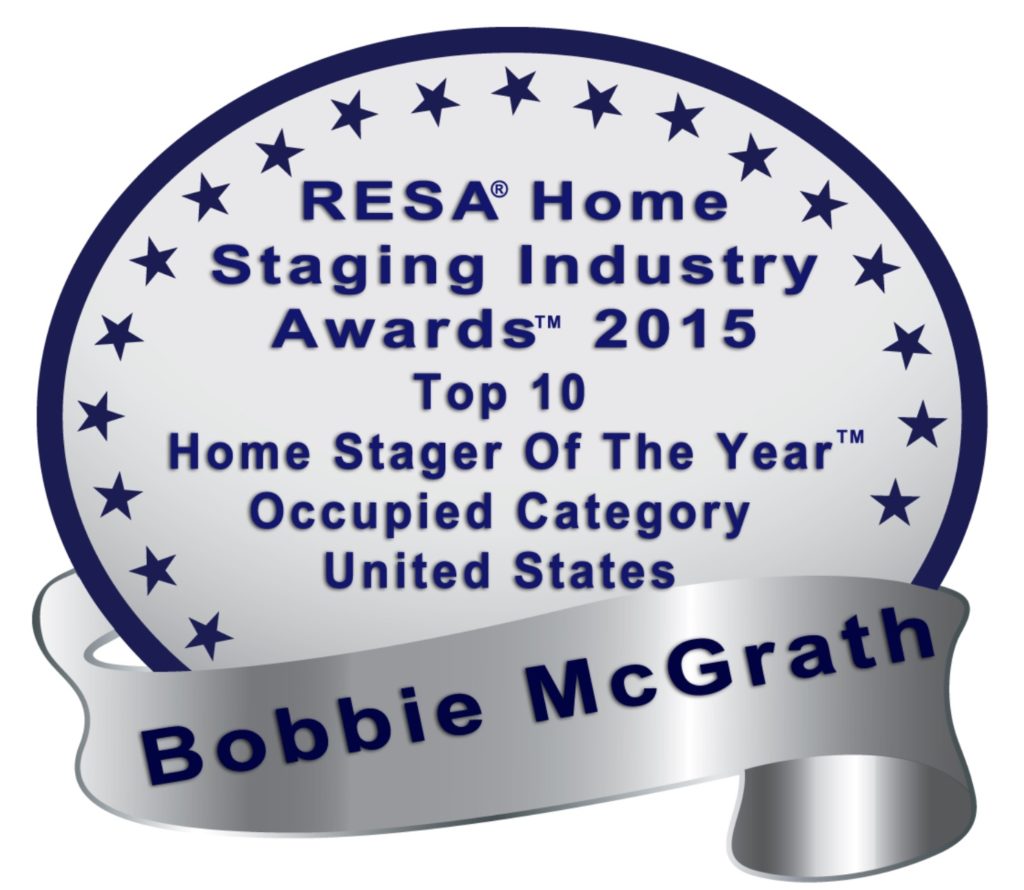 The only award winning home stager specializing in occupied home staging services throughout the Raleigh/Durham/Chapel Hill area, Bobbie's focus on providing practical and cost-effective home staging recommendations has earned her the reputation as the "go-to" Stager.
Realtors use words like, "positive", "professional", "effective" and "great communicator" when describing her interactions with their clients. Home sellers often remark how the deceptively simple changes she recommends can create such a huge difference in the way their house is shown. After her staging experience with Bobbie, one seller remarked, "I'll never sign with a Realtor who doesn't use Bobbie as their Stager."
Among Bobbie's newest endeavors is the recent release of her "Occupied Consultation Specialist™" training program. Developed for home stagers looking to provide a top-notch occupied consultation sure to get results! Based on her 14+ years consulting on well over 6,000 properties, Bobbie shares the insights needed to create compelling interiors sure to entice potential home sellers.
With her years of experience speaking with thousands of sellers, hundreds of Realtors and home stagers, Bobbie McGrath has become a sought-after speaker and trainer. She is currently training Australian realtors on how best to present staging to their listing clients as a  powerful and effective marketing tool. She created the North Carolina Board of Realtors approved, "Setting the Stage…" as a continuing education elective for Realtors.  Her communication style, choice of words and "tasting" of color make her sessions memorable!
Whether meeting with home sellers, speaking to organizations or training realtors and fellow stagers, Bobbie's goal is to leave you with a positive and empowering message sure to "Set the Stage" for YOUR success!
We are insured! Find out why that matters.
All images on this site are of our own work. Learn more about our True Portfolio.
Bobbie is a winner, from the moment she steps into your home until she wraps up her staging consultation. She is knowledgeable about every detail of staging from paint color coordination to repairing holes in the wall. She is equally adept at using the client's own things to supplying inventory from her warehouse full of creative furnishings and accessories. Best of all, she is funny and personable. But most importantly, her advice SELLS HOUSES. She is one of the most successful stagers in the business; what more does one need to know?

Phyllis Hayden

Homeowner

Bobbie helped me get my house ready to list for sale. She is very efficient and knows what is important to a potential buyer. She was extremely helpful in making a list of Top 10 items for me to concentrate my efforts. Also, she is willing to do as much or as little in order to stay within my budget. Once I took care of my items, she came in and staged the place beautifully and worked with what I already had. The value of her services was tremendous to me! I would highly recommend her.

Karen C

Home Seller-HOUZZ

Bobbie McGrath of Successful Staging was a huge help in getting our house ready for sale. First, she came highly recommended. She had staged my sister's home and it sold in 5 days. We asked her out to our home last April, a year before we were ready to sell, because we knew we needed some upgrades. She has an amazing eye for color, light, space, and shape and gave us just the advice we needed to do the changes that were really needed and would make the most impact. She is so easy to work with and makes the process much more fun than you imagine. This is partly because you can really see how much improvement each step makes. We worked through that list last year. Much of which we could do ourselves. Last month we asked her out again for a final review. Once again, her advice helped us arrange, de-clutter, and add more light and color to our home to show it to it's best advantage. After that I emailed her photos of what I had done and she generously gave us final advice on the phone. I can't thank her enough. She explained her rationale behind each recommendation so I learned from her, she offered us advice on how to accomplish the changes with the best providers at the lowest cost, and she used our possessions where possible to further minimize our outlay of money. I like our home now better than it was before and would love her to help up on the other end of our move. Perhaps by phone. Thank heavens for Facetime!

Robin W

home Seller-HOUZZ

At first, I was skeptical of the usefulness of staging. However, the staging consultation was one of the most crucial aspects of the selling process for me...I had multiple offers within one week. The proof really is in the pudding. I'm thrilled with the results!

M. Thomas

Homeowner

The Linda Kolarov Team uses Bobbie to stage all of our listings. In this market, it's a price war and a beauty contest, and Bobbie's expert staging makes our listings stand out. We appreciate Bobbie's "hands-on" approach; we always ask for a "working consultation" to get the job done in a timely fashion. Bobbie is great with our clients and also with the follow-up. She's upbeat and optimistic, and she can taste color!

Jodi Lynn Villers

Broker/Realtor and Office Manager for The Linda Bird Kolarov Team, Coldwell Banker Advantage